In January, UCI hosted a site for the Global Game Jam.  It was a roaring success!  Click here for a short news article about the event.
What is the Global Game Jam?
From the official GGJ page: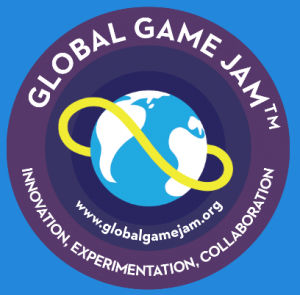 "The Global Game Jam (GGJ) is the world's largest game jam event (game creation) taking place around the world at physical locations. Think of it as a hackathon focused on game development. It is the growth of an idea that in today's heavily connected world, we could come together, be creative, share experiences and express ourselves in a multitude of ways using video games – it is very universal. The weekend stirs a global creative buzz in games, while at the same time exploring the process of development, be it programming, iterative design, narrative exploration or artistic expression. It is all condensed into a 48 hour development cycle. The GGJ encourages people with all kinds of backgrounds to participate and contribute to this global spread of game development and creativity.
The structure of a jam is usually that everyone gathers on Friday late afternoon, watches a short video keynote with advice from leading game developers, and then a secret theme is announced. All sites worldwide are then challenged to make games based on that same theme, with games to be completed by Sunday afternoon. In January 2013, we had 309 location in 63 countries create over 3000 games in one weekend! GGJ 2014 is January 24-26 at a location near you… if not you can make one of your own. The jam is known for helping foster new friendships, increase confidence and opportunities within the community. The jam is always an intellectual challenge. People are invited to explore new technology tools, trying on new roles in development and testing their skills to do something that requires them to design, develop create, test and make a new game in the time span of 48 hours.
The GGJ stimulates collaboration and is not a competition."
When is the Global Game Jam?
The Global Game Jam runs for 48 hours, from January 23-25, 2015  We will be starting our Jam at 5:00 pm on the 23rd.
Where is the Global Game Jam?
It's global!  It's everywhere!
Okay….that's not very helpful.  The Jam site at UC Irvine is located in Donald Bren Hall on the UCI campus.  We will have several rooms set up for the Jam.  6011 is the main space where everyone can gather to work, talk, and collaborate.  5011 is a smaller room where there will be food and drinks set-up, and some tables and chairs for group work.  The building locks in the evenings, requiring Keycard access.  We will have designated volunteers to help people to get in and out of the building as needed after hours.
Who can participate in the Jam?
The UCI Global Game Jam site is open to to everyone with an interest in making games, not just UCI students.  However, we do have some restrictions on our space occupancy, and so if we end up oversubscribed we will be giving preference to students within the Computer Game Studies Program and Video Game Development Club at UCI.  We don't think this will happen, but it is a possibility.  That said, we encourage participation from all potential Jammers from the broader games community at UCI including members of the games industry who are interested in a chance to do something wild and creative with their spare time.  We currently have no age restriction on participation, however we ask that all minors be accompanied by a responsible adult.
Does the Jam cost anything?
Thanks to the generous support of UC Irvine's Institute for Virtual Environments and Computer Games, the Global Game Jam is free to attend!
How can I participate in the Jam?
Every Jammer needs to sign up for the Jam though the official GGJ website. Please be aware that spaces are limited so sign up early!
Should I come to the Jam with a team of  people I want to work with?
Actually, part of the fun of the Jam is getting a chance to connect with other designers and gamers, so we strongly discourage doing any teambuilding before arrival.  Think of the Jam as a chance to stretch yourself, to meet new people, and to explore game design ideas that you might not get to explore under other circumstances.  The GGJ is a great environment to take risks and learn new things, and there is usually a very broad range of skills and talent in the room to work with.  We have found it helpful to arrive with a sense of what you are interested in doing: are you a writer? an artist? a programmer? a designer? a musician? a playtester?  You don't have to be an expert at any of these things to have a good time, although it is very helpful to be at least familiar with games, and to have some experience with either game design, or with production and development more broadly.  We will do our best to match people up into teams that have a good balance of skills and experience, so that everyone has a chance to succeed, but it is important to remember that the central objective of the GJJ is to find the fun in game design.
What if I'm not a programmer?  Can I participate in the the Jam?
Games require a very broad range of skills and abilities: not just programming.  We've been to game jams where none of the participants were programmers, and all of the games that were made were pen & paper games, card games, and board games.  Chances are there will be many people at the Jam with programming skills, but also plenty of people there who are good at other things.  Everyone should be able to participate in a meaningful way, and we will work to help you find a spot where you can make a contribution.
Can I bring a work in progress to the Jam?
No.  Technically we have no way to stop you from doing this, but it isn't really in the spirit of the event.  This is why we have an inspirational keynote at the beginning, and a top secret theme that we don't reveal until you arrive.  The goal is for people to imagine and create a new game from nothing in a weekend.
What happens to the games after the Jam?
One of the conditions of participating in the Global Game Jam is that any games you make on the weekend are Open Source, and shared on the GGJ repository.  This is another reason why Jammers are discouraged from bringing existing works and intellectual property.  The GGJ as an organization isn't interested in getting involved in any IP disputes over copyright or ownership.  We also want to make the jam a safe place for professionals within the industry to express their creativity without creating any conflict-of-interest with their day-jobs and employers.
What Should I Bring to the Jam?
We will be providing the following:
Internet Access for all Jammers
Power for computers, laptops, chargers, equipment, etc.
A space, and tables and chairs to work at.
Snacks and beverages.
Jammers should plan to bring anything that they think they might need to make their games.  This could include computer systems with appropriate development tools and software installed, sketching and art supplies for brainstorming and concept development, audio recording gear and music making tools, dice, cards, tablets, styli, and any other creative tools that you use or would like to use to help create your games.
Sponsors
Many thanks to our sponsors, without whom this event would not be possible.